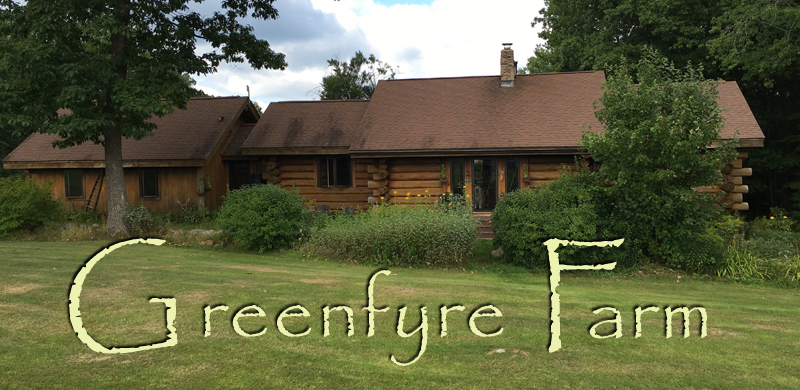 We arrived at Greenfyre Farm in June of 2009, settled into our amazing log house, and were quickly welcomed into this rural, diverse town with so many opportunities to be of service to the land and the community.
Our spiritual work continues with sweat lodge, medicine circle, retreats in a timber frame cabin, long woodland trails, and quiet natural spaces.
We invite you to visit us and enjoy the many wonderful adventures offered on the farm and in the beautiful North Quabbin region of Massachusetts.
Celebrations of Mother Earth Spirituality
Drumming & Healing Circles
Private Counseling and Healing Sessions
www.idealifehealing.com
Michael Young on Facebook

Greenfyre Farm, not far but a world away.
Please let us know if you wish to be on our email events list.
Our Upcoming Events

Saturday November 10th 11AM: Veterans Day SWEATLODGE CEREMONY


DIRECTIONS TO GREENFYRE FARM:
DO NOT USE YOUR GPS - IT WILL TAKE YOU TO THE WRONG GULF ROAD. WE ARE OFF RT. 68.
From the EAST: Rt 2 to Exit 19. Left onto 2A, first right onto Royalston Road. Follow directions below.
From the SOUTH
91 North to Greenfield, MA, Exit 27, Rt. 2 East.
Exit 19 off Rt. 2
Right at end of exit, immediate left after underpass onto Royalston Road
Continue on Royalston Road to the end at a T about 4 miles.
Left at the T onto Rt. 68
Right over RR tracks, bridge, continue left on Rt. 68
Through S. Royalston (General Store)
Start up a hill, black & yellow arrows on left TWO TENTHS of a mile from General Store.
LEFT onto Dickley Road between the arrows, continue up hill
At Gulf Road - (row of mailboxes) take a left
We are first house on right, #6 GREENFYRE.

ALTERNATE ROUTE FROM SOUTH I-91 to Exit 16 in Holyoke,Follow 202 North to Route 2 East. Entrance on right just past gas station. Take Exit 19, follow above directions.
From New Hampshire: Take Rt. 32 to 68South. Four miles after Royalston Common,
right onto Dickley Road, Right on Gulf.





News From Greenfyre Farm

September 10, 2019: Greenfyre Farm
FIRST FIRE

Every year about this time
We light the fire in the woodstove for the first time.
The renewal of an old ritual,
as old as time itself.
Position the wood just so.
Kindling in place,
strike the match.
Match to kindling -
an active hope -
a promise of warmth.

The journey from summer to winter begins
like a trip on a New England highway.
Early morning mist rises from the land.
A column of smoke ascends from each chimney.
Farmhouse porches hold a wealth of wood.
Evidence of preparedness,
solid self-reliance,
defense against the coming coldness.

Like Christmas lights,
or Hanukkah candles, we kindle the light
against the encroaching darkness.
We light the fire in the wood stove
for the firswt time.

Michael Young
September 9, 2018


Please see Michael's website www.idealifehealing.com
idealife.young@gmail.com
Phone: 978-249-2722
You may schedule a counseling session, Hands-on-Healing,
One-to-One processing or a 1, 3 or 5 day Healing Retreat.
People of all spiritual paths are welcome.