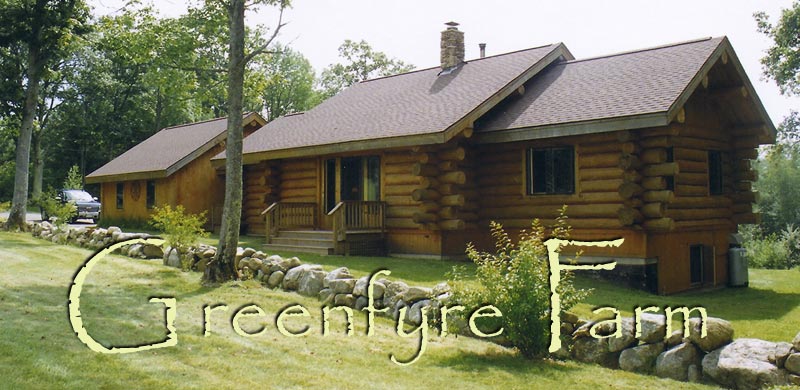 We welcome you to Greenfyre, our new home and retreat center in rural Royalston, MA. Our log home is red pine from the Quabbin Forest and is surrounded by 25 acres of white birch and pine woods. Our paint mare Spirit grazes in the old hayfields.
Walk our trails, or explore nearby Doane's Falls, Tully Lake.and the Bearsden Forest Conservation area. Come for a relaxing visit or a spiritual retreat. Stay in the house in your own guest room, or enjoy the privacy of our rustic cabin. We are not far, but a world away.
Our Upcoming Events

Sweatlodge Dates: Sunday, Sept. 18, Saturday Oct.22 10AM
Come and share your stories and prayers with
us in sacred space.
:
DIRECTIONS TO GREENFYRE FARM:
DO NOT USE YOUR GPS - IT WILL TAKE YOU TO THE WRONG GULF ROAD. WE ARE OFF RT. 68.
From the EAST: Rt 2 to Exit 19. Left onto 2A, first right onto Royalston Road. Follow directions below.
From the SOUTH
91 North to Greenfield, MA, Exit 27, Rt. 2 East.
Exit 19 off Rt. 2
Right at end of exit, immediate left after underpass onto Royalston Road
Continue on Royalston Road to the end at a T about 4 miles.
Left at the T onto Rt. 68
Right over RR tracks, bridge, continue left on Rt. 68
Through S. Royalston (General Store)
Start up a hill, black & yellow arrows on left TWO TENTHS of a mile from General Store.
LEFT onto Dickley Road between the arrows, continue up hill
At Gulf Road - (row of mailboxes) take a left
We are first house on right, #6 GREENFYRE.

ALTERNATE ROUTE FROM SOUTH I-91 to Exit 16 in Holyoke,Follow 202 North to Route 2 East. Entrance on right just past gas station. Take Exit 19, follow above directions.
From New Hampshire: Take Rt. 32 to 68South. Four miles after Royalston Common,
right onto Dickley Road, Right on Gulf.





News From Greenfyre Farm

: Greenfyre Farm
Early one August morn,
summer not quite done,
autumn coming on,
a gray sky
cuddled me
with equal parts
comfort and closeness.
Humidity brought
soft flannel warmth.
Some scarlet leaves
showed dryness,
while night insects
signaled change.
Kids going back to school
need crispness to
get going to the bus.
Books and bags and lunches
and "How'd your summer go?"
Time to connect with old friends,
new teachers.

Next stop,
pumpkins and
apples.
Thanksgiving's
just around
the corner!


Please see Michael's website www.idealifehealing.com
idealife.young@gmail.com
Phone: 978-249-2722
You may schedule a counseling session, Hands-on-Healing,
One-to-One processing or a 1, 3 or 5 day Healing Retreat.
People of all spiritual paths are welcome.